About Us
Rocktech Systems & Projects (RTSP)
Rocktech Systems & Projects (RTSP) is organisation managed by professionals and provides complete drill and blast solutions to surface and underground mining, quarry and construction industries .RTSP specializes in the development and implementation of drill and blast system, especially controlled blast system, covering all aspects of explosive storage, transport and use. RTSP is in business for last 19 years and has expertise in underwater blasting, digital blasting, final rock-plug blasting, ring hole blasting, urban controlled blasting, deep hole blasting, quarrying and mining. RTSP provides consultancy on blast design and implementation, blast optimization, risk management, blast induced ground vibration monitoring, sound and Noise monitoring, Liaison with statutory departments to gain statutory permissions for blasting, quarrying and mining.
---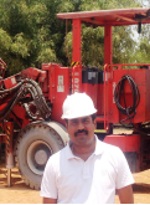 Manoj Gurharikar
Manoj Gurharikar founder member of RTSP, is a graduate in Mining Engineering with 19 years of experience in the mining and construction industry, specialising in blasting operations in difficult and technically challenging areas.
Having spent four years working for major explosives manufacturers and suppliers in India. Manoj established Rocktech Systems & Projects in year 1998 to provide an independent consulting service in blasting to the mining and civil construction industry.
A member of the International Society of Explosive Engineers(USA), Mining Engineers Association of India and Visfotak(India). Manoj has presented some technical papers at international and national conferences on case studies and subjects including effects of blast induced ground vibrations on green concrete and underwater blasting. Conducted lectures at coal subsidiaries on explosives and blasting.
Skills include :
Understanding of all aspects of the explosives and blasting industry with a focus on safety and efficiency. Experience in a broad range of tunneling, surface mines and construction operations including small diameter tunnels for irrigation project, Cautious and controlled blasting in urban areas for land developments projects, Total blast induced vibration control adjacent to dam for Hydro power project, Final rock-plug blasting. Project management and risk management related to blasting operations. Economic and technical analysis of blasting operations leading to precise and practical recommendations. Development and implementation of competency based training systems. Masters skills in quarry management from ROM to final product.
Manoj specialises in developing total blasting systems incorporating technical, economic and human factors to deliver an optimised result. Received National Award for Industrial Development by AIAF, New Delhi for controlled blasting work. Holds Manager's Competency Certificate from Director General of Mines Safety and Shotfirer permits with unlimited types of blasting, issued by department of Explosives, Govt. of India.
---